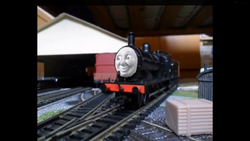 John
Class: Midland Railway Johnson
Designers: Samuel W. Johnson and Richard Deeley
Configuration: 0-6-0
Withdrawn:1964
John is an old but vain and rude engine.
Bio in the Series
John has made several cameos in the series.
He first full appearance was when he took Arthur's Special Train. Two robbers decided to commit a copycat crime similar to the great train robbery. John was petrified when he saw this. He was scolded by the shed master and was embarrassed in front of all the engines.
He finally got his comeuppance after trying to take the military train. He was finally able to take it but he was once again humiliated in front of all the engines.
While Fred was at Crewe, he got into more trouble with the trucks after he bumped them too hard causing Horwich to run away luckily stopping at the yards before crashing into Den.
Then he was seen at Crewe (for reasons unknown) to help Horwich come back but not before meeting Fred. They had to wait at the station for both the signal and Fred. John was eager to go but Horich held on until Fred came at the last minute, clearing their departure for home.
Basis
John's class is based on the Midland Railway Johnson 0-6-0. A class which was extinct by 1964.
Trivia
The engine carrying John's Number, 43474 was built at Neilson & Co. of Glasgow, Scotland on September 30th, 1896 and was withdrawn from service on March 18th, 1961. It was scrapped at Derby Works on November 11th, 1962.
Appearances
Gallery